A HAMPTONS HOME IS TRANSFORMED BY CONTEMPORARY ART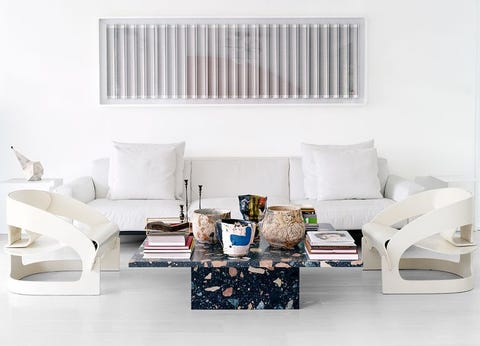 It seems fitting that this weekend home in East Hampton,
New York, was photographed by the artist David Benjamin Sherry, since it is the home of two passionate art collectors.
The couple acquired the house, a 1950s fisherman's cottage, in 2004.
They were willing to accept its tiny footprint—just 700 square feet—because the extraordinary setting overlooking the bay was everything they wanted. Fifteen years later,
after several transmutations, their weekend home is finally complete.
After several attempts at renovating, in 2016 they knew they were ready for the house of their dreams.
They both immediately agreed that the house had to be energy-​efficient and sustainable.
They had a clear idea of what the home should look like,
and they hired the Peruvian architect Javier Robles to bring their vision to reality.
Of course, there had to be enough space to display a significant portion of their contemporary art collection,
including works by Lucy Dodd, Egan Frantz, and Richard Aldrich.
Shelving for their expansive selection of art books was another important element. In designing the space,
they wanted to highlight the furniture and lighting they had curated over the years. With their architect,
they discussed every detail they had been mulling,
from how to incorporate natural light in the house to ceiling heights and interior illumination.
And they definitely wanted a stunning, high-functioning kitchen.
Both men are enthusiastic chefs who love to eat and entertain. Coming from two different cultures,
Colombian and Armenian-Lebanese, they are steeped in the cultural traditions of their families, many of which revolve around food.
With an international assembly of beloved guests, their dining table is a cacophony of languages, laughter, and delicious homemade cuisine.
As the evening progresses, the party invariably moves into the stylish living room for coffee and more conversation. สถาปนิก