SEE THE WHIMSICAL INTERIORS OF THIS MEDIEVAL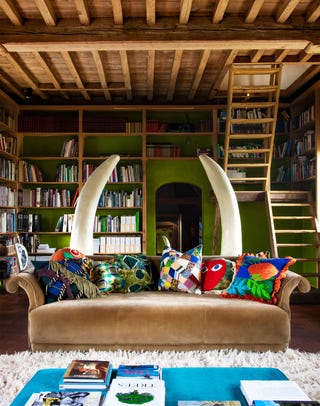 The Belgian design wizard Jean-Philippe Demeyer has long been attracted to history—and to an artful reimagining of the past.
He describes his style as a kind of "new romance,"
with each room conjured through a visual alchemy he calls "a mix of controlled chaos and coincidence."
For the past 15 years, his home has been nothing if not romantic.
With its earliest section dating from medieval times, the former hunting lodge—complete with moat—outside of Bruges in East Flanders has served as his home and the base for JPDemeyer&Co, his interior and garden design studio that he operates with his two business partners,
Frank ver Elst and Jean-Paul Dewever. Since the trio took over this Gothic countryside estate,
they have turned it into an exuberant color- and pattern-filled extravaganza that is one part showroom for visiting clients and another part residence-​as-​imagination-​station.
The buildings on the estate, which the three men have restored over the years,
include the former hunting lodge, a Victorian-era addition that functions as an office, an orangery,
and stables that have been transformed into a textiles workshop.
Throughout the property, the colorful interiors are filled with unique pieces and eclectic finds, from a gigantic shell in Carrara marble to a desk painted in an animal print and a Doric column that conceals a hidden bar.
In Demeyer's view, nothing is too fantastical to contribute to a fantastic interior. He is fond, for example, of dramatic vases.
"The bigger, the better," says Demeyer, who studied law before becoming a designer.
"By combining different styles, the interior gets another layer, one that tells a story."
สถาปนิก